Professional Commercial Foundation Repairs Oklahoma
House Doctors Foundation Repair is family owned and operated in Tuttle, Oklahoma,  offering professional commercial foundation repair and support for all types of construction, including commercial, government, and municipal buildings. Our professional foundation repair specialists can provide the solution specific to your structure, whether you have an existing foundation, or are needing reinforcement for a new project, we can help complete your project, staying on time, and on budget.
Commercial Foundation Repair Oklahoma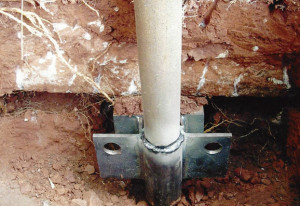 We understand that commercial properties are an investment; therefore, we provide professional foundation repair solutions that are non-intrusive and not only cost-effective, but also guaranteed to last for many years to come.
Our professional commercial foundation repair services ensure your business, church, government or commercial property has the most professional foundation repair company in Oklahoma assisting with all of your foundation repair problems. Whether you need new steel pier foundation repair, concrete replacement on your property, or even crawl space foundation repairs or rotten wood replacement services. House Doctors Foundation Repair can assist you in resolving foundation problems, not only staying within budget, but our commercial foundation repair services are guaranteed to last, taking the worry out of future foundation repairs.
Commercial Foundation Repair Services
Concrete Replacement
Concrete Driven Piers
Pier and beam replacement
Steel pier foundation repair
Crawl Space foundation repair
Rotten wood replacement
We service the entire State of Oklahoma. We are a LOCALLY owned and operated foundation repair company.
Contact Us TODAY for more information on any of our commercial foundation repairs and steel pier foundation repair services.